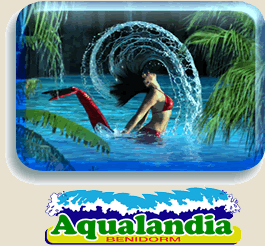 AQUALANDIA RE-OPENS MAY 27th 2017 TICKETS ARE ON SALE NOW FROM THIS WEB SITE.
Aqualandia means fun for all the family, with rides to suit all tastes. The Big Bang, for example is unique, the largest water slide in a European park. The park has hydrotherapy areas with two jacuzzis next to the unforgettable Niagara, offering you the chance to relax. Other rides such as VERTI-GO the new capsule slide,thePistas Blandas, the Kamikaze, the Zigzag, the Lagoon or the Rapids, ensure an unforgettable day out.
Small children are not forgotten. There are children´s areas with water games and small slides offering Mum and Dad the chance to enjoy time with their little ones.
When you purchase from this web site you have a 6€ discount off the adult price and 4€ off the children's price. Normal price at the ticket office is 38€ for Adults and 29€ for children. Here on the web tickets cost 32€ for adults and 25€ children/Seniors. There is also a special group price available.
Watch video of the new Capsule Slide VERTI-GO in Aqualandia. The highest capsule slide in the world.